The industrial monument tram depot "Am Steinberg"
A place where the history and significance of local public transport and the region's manufacturing companies can be documented and made tangible for the public does not currently exist in Düsseldorf.
It is the aim of the "Linie D" association to make this possible in a suitable environment. With the more than 100-year-old building of the depot "Am Steinberg" in Düsseldorf-Bilk, there is the possibility of creating a lively transportation center that can find interested parties and friends far beyond the city.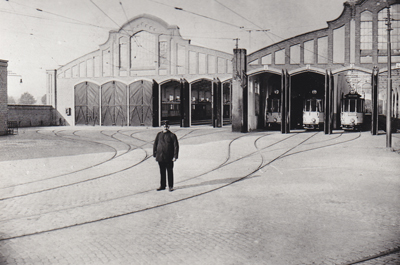 Düsseldorf's transport history: much more than just streetcars and buses
The history of transportation is one aspect of Düsseldorf's multifaceted development into an industrial and service metropolis over the past 150 years. The oldest existing streetcar depot in Düsseldorf, "Am Steinberg", can offer an authentic space for topics from the past to the future:
The development of urban transport
The interaction of urban and traffic development
The special significance of the Rheinbahn for the development of the city and the region as well as for innovative traffic concepts
Düsseldorf as a traditional location of the German vehicle industry
The importance of mobility for the quality of life and prosperity of the population
Local public transport as a resource-saving transport system of the future
The essential prerequisites in Düsseldorf to present these topics in a lively attractive center exist. The resources available today at the "Am Steinberg" industrial monument streetcar depot are unique in western Germany and in neighboring countries.
The depot: The center of the Düsseldorf rail network
The "Am Steinberg" depot was put into operation by the Düsseldorf tramway in the Bilk district in 1908. Due to the rapidly growing streetcar network at the beginning of the 20th century, this new building in the south of Düsseldorf had become necessary.
Its concrete truss construction, reminiscent of a church building, was highly modern at the time, making it an architecturally interesting monument as well. During the Second World War, parts of the facades were destroyed.
Because of its importance, two halls of the depot were entered in the list of monuments in 1996.
The streetcars: On the road with Düsseldorf's citizens
Düsseldorf has a large number of historically valuable - for the most part operational - streetcar vehicles. The streetcars represent all stages in the development of urban public transport from around 1920 to the present day.
The vehicles can travel on almost all routes of the extensive Rheinbahn streetcar network.
Today, the vehicles are presented to the public on the occasion of special events and rides and are also available for private charter rides.
Other extensive materials and documents on the history of transport are also available from the Rheinbahn, the "Linie D" association and private individuals.