Permanent exhibition in the depot "Am Steinberg
Visit us in the listed halls of the former depot Am Steinberg! Commissioned in 1908, the hall offers not only the impressive historical fleet but also architectural highlights. The area with the address "Am Steinberg 35" is one of the few in the city of Düsseldorf which has remained almost unchanged until today. Nothing has been demolished here since the development. Even the residential building, which used to serve exclusively as company housing for Rheinbahn employees, was rebuilt after heavy destruction during the Second World War.
The permanent exhibition "125 Years Rheinbahn"
In seven chapters - from the end of the 19th century to the present day - a new exhibition area provides information about the closely related history of the city and transport and shows the special influence of the Rheinbahn on urban development. A separate chapter is devoted to the former shipping operations of the Rheinbahn.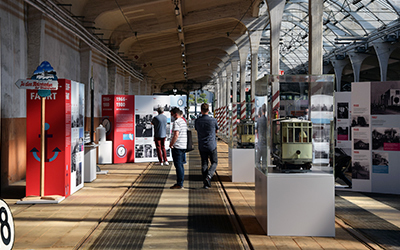 For people interested in technology and model enthusiasts
In the entrance area of the depot, models are an eye-catcher for visitors: In keeping with the anniversary occasion, the Düsseldorf streetcar fleet is on display in 1:87 scale, from the small carriages of the horse-drawn streetcar to the light rail car in the anniversary design.
Many times larger are the almost 100-year-old models on a scale of 1:5, which were made by the Rheinbahn's training workshop for the "Great Exhibition Düsseldorf 1926 for Health Care, Social Welfare and Physical Exercise (GeSoLei)". Their attention to detail is impressive, which you can see for yourself when the original is standing next to it, as could be done with the Sprengwagen 51.
Furthermore, the well-known "Dyfa-Anzeigen" (dynamic journey indicators) from the stops can be seen up close, as well as the predecessor with drop blades. An LZB signal invites to "self-service". A control center workstation simulates the work of a signalman at the end of the 1980s.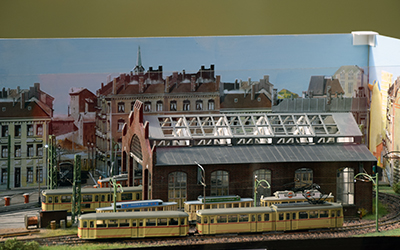 Club store on site
At the stand of the association interested people can inform themselves about the work of the association. In addition, there is always a selection of various journals, the club magazine and various changing items. From the conductor's bag to the coveted model bus, everything is currently available! Card payment is also possible!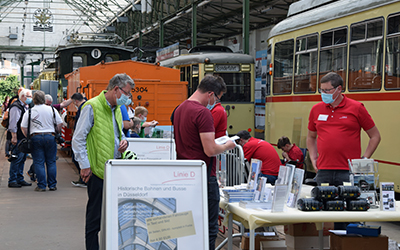 Changing vehicle exhibition
The vehicle exhibition in the hall changes every now and then, so that different vehicles are "in the front row". A recurring visit is therefore worthwhile!